About ArtHaus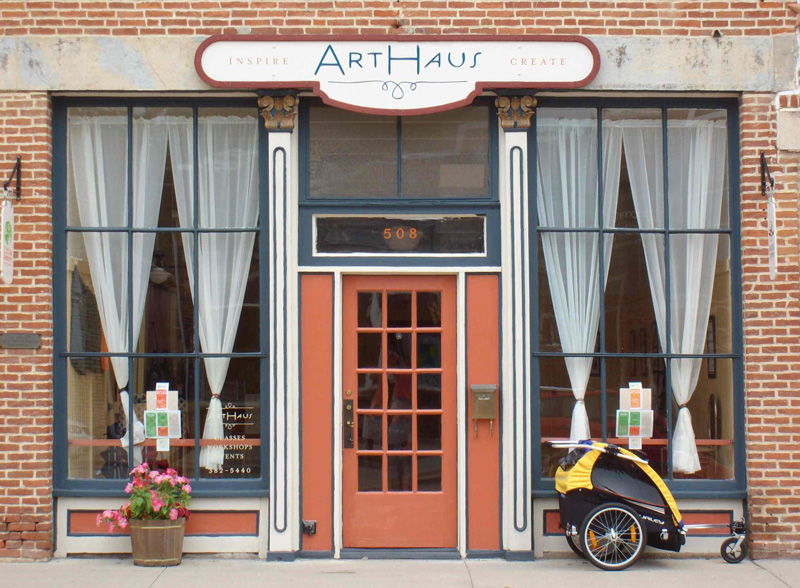 ArtHaus is 'your haus' in downtown Decorah, Iowa for the arts bringing visual, performing, and literary art together and offering creative educational and cultural programs for all ages. ArtHaus was opened in the fall of 2008 by Kristen Underwood and Lea Donhowe Lovelace to provide a venue for quality arts education and experiences in the heart of downtown Decorah.
From June 2014-December 2016, the organization was led by Eric and Jenni Petersen-Brant.  In December of 2016, Shannon Dallenbach Durbin came on board as the new director with the support of an extensive cadre of professional teaching artists, an active board of directors, and a committed base of interns and volunteers who help to develop and facilitate year-round programming.
Hosting programs in two locations, ArtHaus (508 W. Water St.) and ArtHaus Studio (516 W. Water St.), ArtHaus offers professional instruction in visual, performing and literary arts to students of all ages, working with children as young as 2. ArtHaus also hosts free and low-cost events throughout the year such as art fairs, gallery openings, poetry slams, and live music concerts.
In addition to structured classes and public arts events, ArtHaus also provides space and mentorship for budding artists through their Youth Apprenticeship Program, bonding through creative expression in Date Nights and Family Workshops, and a variety of outreach activities that mobilize individuals and groups to use the power of the arts to have a positive impact on their community.
ArtHaus is a 501(c)(3) non-profit organization. All contributions and gifts in support of ArtHaus are tax deductible.
ArtHaus is a member of the Decorah Area Chamber of Commerce and the Winneshiek County Convention & Visitors Bureau. To learn more about Decorah and the Chamber of Commerce, please visit their website. To learn more about the Winneshiek County Convention & Visitors Bureau and view a complete list of events going on in Decorah and throughout the county, please visit their website.