Upcoming Shows
OF WINGS AND WATER
On Display: June  15 – July 13
Reception: Friday, June 15, 7-9 pm
Cost: Free
Location: ArtHaus Gallery
Collaborative and independent paintings on canvas by local artists Jennifer Fisher Jones and Cary Wyninger from Trempeleau, Wisconsin. Noticing complimentary use of color, loose brush work, and dynamic movement the artistic pair were enticed to embark on a merging water and wing imagery in the collaborative series by passing canvases back and forth from their respective studios until deemed complete.
Sponsored by Day Spring Spa.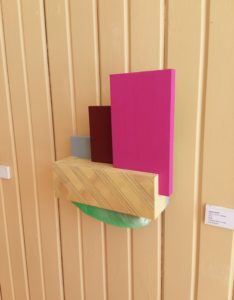 Exposing #3 by Gabrielle Cordes
TANGABILITY: GABRIELLE CORDES
On Display: July 20 – Aug 31
Reception: Friday, July 20, 7-9 pm
Cost: Free
Location: ArtHaus Gallery
Gabrielle Cordes won Best of Show in this year's Emerging Artist Exhibition. Now join the UW-Madison student as she displays her sculptures of ceramic, wood, and vibrant color combinations in a story of abstracted, tangible language.
Sponsored by Decorah State Bank.
PREVIEW – NEIA STUDIO TOUR
On Display: Sept 6 – Oct 5
Cost: Free
Location: ArtHaus Gallery
Preview show of North East Iowa Artists Studio Tour.
The Northeast Iowa Studio Tour is right around the corner and viewers have the perfect opportunity to get a sneak peek into the artists' work firsthand at the ArtHaus Gallery showing of The Preview: Artists of the 2018 Northeast Iowa Studio Tour.  Several artists including Nate and Hallie Evans, Jenni Brant, Carl Homstad, and Jim Updegraff are participating in this year's show.
Sponsored by Ri'ah.
CARL HOMSTAD
On Display: Oct 19 – Dec 1
Cost: Free
Location: ArtHaus Gallery
Carl Homstad is a well known painter and muralist in Decorah, but where does he gather his ideas?  Part of his process is taking panoramic photos.  Join us in a show where ideas take root.
Sponsored by Decorah State Bank.
HOLIDY ART POP-UP SHOP
On Display: Dec 1 – Dec 22
Location: ArtHaus Gallery