Runs from November 2 - December 28

:

Iowa Artist 50th Anniversary Traveling Art Exhibit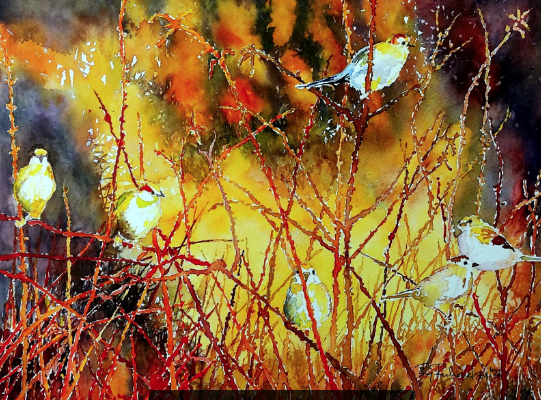 Date: Friday - First Friday, November 4
Time: 6:00 pm – 7:00 pm
Cost: Free!
Location: ArtHaus
—Iowa Artists announces the launch of its 50th Anniversary Reboot 2.021 Traveling Art Exhibit, which will be showcased at five galleries and museums in Iowa. The traveling exhibit will be on display across the state from Aug. 3, 2021, through Feb. 26, 2022. The exhibit will be available to the public for free at the following locations throughout the year:
Witter Gallery in Storm Lake, Iowa, from Aug. 3-31
Sanford Museum & Planetarium in Cherokee, Iowa, from Sept. 2-29
DMACC/Maytag Building 20 in Newton, Iowa, from Oct. 1-29
ArtHaus in Decorah, Iowa, from Nov. 2-Dec. 28
Maquoketa Art Experience in Maquoketa, Iowa, from Jan. 5 -Feb. 26
The juried exhibit will feature 23 pieces of 2D and 3D artwork including three paintings, which took the top-three awards at Iowa Artists' 2021 State Online Show in May 2021. The top winning artists from the May show include: Barry Ross, winning Best of Show with his watercolor "Lilienthal Glider;" Beppie Weiss, winning the Richard Heggen Award for her oil painting, "White on White;" and Robert Richardson winning the Doris Frandsen Award for "Old World Sparrows."
Select exhibit pieces will be available for purchase during the tour. Due to COVID-19, Iowa Artists was forced to cancel many of its regional shows, workshops and other events in 2020. Iowa Artists' 50th Anniversary Reboot 2.021 will be its first in-person exhibit open to the public since the start of the pandemic. Since March 2020, Iowa Artists has steadily gained new members as many Iowans have turned to at-home hobbies to fill their time when many non-essential businesses were temporarily closed due to the virus. To connect with members during the pandemic, Iowa Artists turned to virtual events including
online art shows, virtual meet-and-greets and its private Iowa Artists Artworks Facebook group. The Iowa Artists' 50th Anniversary Reboot 2.021 Traveling Art Exhibit is a culmination of its efforts to keep Iowa artists creating during the pandemic and connecting with newly reopened art galleries across Iowa.
Those interested in joining Iowa Artists can visit www.iowaartists.us to learn more.